From Dark Caves To Red Carpet
31.01.2012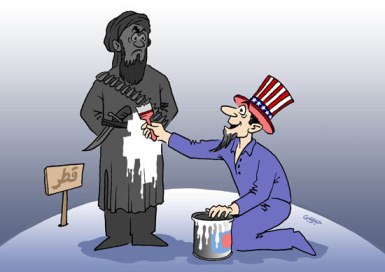 Since January 3rd 2012 when the Taliban for the first time signalled their preparedness for opening up an office in Qatar, almost all media circles involved in Afghanistan have rushed to capture this hot topic. Many were caught by surprise about this news, while others including the Afghan High Peace Council (AHPC) were sceptical.
It has been around three years when Obama's military strategy announced in late September 2009 and the London Conference held in early 2010 gave a desire for Afghan government to negotiate with Taliban. Since then frequent attempts by the Afghan government and its international partners were made to begin talks with Taliban who always responded with bloodshed and deadly attacks.
Initially begun by the US envoy Richard C. Holbrook (died in 2010) the negotiation was followed by Marc Grossman, his successor as senior representative to Afghanistan and Pakistan. Over the last year, several secret talks took place between the US and the Taliban from Doha, Qatar to Munich Germany where BND, Germany's foreign intelligence agency has facilitated many of these talks.
Now, more than 13 months later, it is clear that these negotiations were successful to convince Taliban for peace talks at least, however, whether it will lead to a peace deal still remains very challenging and to be seen.
Unclear whereabouts and emissaries:
Efforts to talk with Taliban repeatedly experienced uncertainty and disappointment. Many claimed to be representing the Taliban. In 2010, the US and British intelligence were deceived by a presumed shop owner in Quetta who assured them to be the senior commander of Taliban. After several months of stay in Kabul pocketing large amounts of money, he disappeared.
Former President Rabbani who headed the AHPC was assassinated by a suicide bomber who also pretended to be the representative of Taliban. Other such as Mullah Beradar, the Taliban's second-in-command who could potentially represent Taliban was arrested in Pakistan and was taken away from the possible efforts of negotiation between the Taliban and Karzai's administration.
The scepticism on Taliban's representation has even led the AHPC to doubt Taliban's representation and unclear address. Ismail Qasemyar, a leading member of the council said to BBC recently that someone from the council will soon be travelling to Qatar. He said that they want to see Qatar office by their own eyes while Taliban in a statement said that Qatar office is only for talks with the US.
Why Taliban negotiate now?
Until now, Taliban had been reluctant to ever admit publicly that they would be willing to sit on negotiation tables. Ever since the Taliban was requested for talks, they preconditioned the departure of international forces. Now that the forces are leaving, their objective seems very reciprocal for both the US and the Taliban.
Also the Taliban might have sensed that even their victory against the current regime may follow chaotic consequences if they remain isolated like their rule era when they were only recognised by only three countries (Saudi Arabia, Pakistan and the United Arab Emirates.) They presumably realise that without foreign financial aids, the country would likely collapse in post 2014 if they are again to come.
Kabul exclusion from Talks:
Mrs. Clinton frequently stated that any reconciliation must be led by Afghans themselves. Afghan president's spokesman, Aimal Faizi said to Tolo (a local popular TV) that any talks with Taliban should be directed by Afghan government.
Despite all these statements, there was no consideration for involvement of Kabul in these talks. The AHPC was not invited and neither have the Parliament of the country played any role. Taliban on the other side said that their conflicting side is only the US and they will not talk with the third party.
Disagreement among the government apparatus:
The New York Time reports that a senior Afghan official acknowledged "divisions" in the presidential palace over the matter between those with pro-Western sympathies within President Karzai's inner circle, and those whose wariness of America and its objectives in Afghanistan runs deep.
The official said that despite Karzai's agreement on the Qatar office, he is still uncertain about the sincerity of Taliban. Many in Washington also share the same scepticism.
"What actually ends up unfolding and what understandings are reached to launch something more visible and serious — all of that has not been fully determined yet," New York Times according to a senior administration official familiar with the effort reports.
Critiques on talks:
Despite the US government efforts for negotiation with Taliban, they are perceived as terrorists by the US public. Talks with Taliban were openly criticised by republicans such as Senator Saxby Chambliss who warned against talks with terroristic group while Mitt Romney accused Obama's appeasing foreign policy.
Talks with Taliban were also challenged by Northern Alliance Leaders who held private meeting with the US congressmen recently in Berlin. The leaders argued that talks with Taliban will fail to consider the sacrifices and legitimate interests of the Afghans who ended the brutal oppression of all Afghans.
Hajji Mohammad Mohaqiq, a lawmaker and member of the High Peace Council recently said that there is no optimism about the talks as Taliban are not going to accept the Afghan constitution which guarantees the rights of women and human rights.
Will it work?
The anti-government military insurgents are primarily Taliban, Ghulbuddin Hekmatyar and Haqani's networks. Taliban have shown interest in talks, Hekmatyar has already sent his representatives to Kabul, but there is no news from Haqqani's network who is a powerful anti-government militant network committing terroristic attacks in Kabul (US embassy and Serena hotel in particular have been attacked by this group) and eastern Afghan provinces.
According to an article by BBC, this network was the main group which spoiled the relationship between Pakistan and the US. They are also said to be Pakistan's strong playing card which is reserved to be played in the right game.
Faizullah Jalal, Professor of Law and Political Sciences at Kabul University told Xinhua recently that ensuring peace in Afghanistan is too challenging as it involves a number of multi-dimensional issues. It would require longer time than expected to come up with negotiated settlement as there are several splinted groups within Taliban and foreign hands supporting specific factions.
Other media reports suggest that Quetta Shura seems to have lost control of its younger field commanders who are extremely brutal and unchanged. Mullah Omar and his followers also lost their inspiring leadership to attract commitment from these commanders.
Vice President Khalili stated in a speech last week that Taliban should accept the constitution and should respect all values covered in the national laws. He added that Taliban should leave the ideology of Talibanism and realise that Afghans will not tolerate the Taliban emirate.
However, Taliban in a statement said that their preparedness for talks does not mean to give up Jihad (holy war) nor it can be interpreted as to accept the constitution of the stooge Afghan government.
Given all these realities and challenges, it very much seems implausible to hope that these talks would end up with peace and prosperity. It will likely ensure the objectives for some of those interested in the game, but for the people of Afghanistan, it would only remain as a piece of history.
Share This
Your comments on this
---